Montreal, Quebec, Canada
Team:

Montreal Expos

Opening Day:

April 15, 1977

Capacity:

43,739 (2003) 58,838 (1977)

Dimensions:

CF 404, Power Alleys 375, Foul Lines 325

Surface:

Astroturf

Architect:

Roger Taillibert, Paris, France

Cost:

over $1 Billion

Owner:

City of Montreal
Memorable Moments:
1982 All Star Game.
April 13, 1984: Pete Rose collects career hit number 4,000.
August 6, 1999: Tony Gwynn collects career hit number 3,000.

The Spacecraft U.S.S. Olympic Stadium
Indoor baseball is terrible. I hate it. The stadium is cavernous, impersonal, and has artificial turf. The retractable roof no longer retracts. It looks like an old Star Trek spaceship. The walls and seats of the stadium looked very 70's, and not in the John Travolta kind of way.

Red Sox vs. Expos, July 15, 2001
Unfortunately, Montreal doesn't support its team, the strike really hurt them. They played the Red Sox there and someone referred to it as Fenway North and they weren't kidding. They were easily double the amount of Sox fans there as Expo lovers. Montreal is a great city, but a hockey city. The stadium is terrible, needs repair, and the team is not a big seller. I hate to say it, but I think Major League Baseball needs to dissolve this team.
The Expos retired numbers are (in numerical order):
8 Gary Carter (1993)
10 Rusty Staub (1993)
10 Andre Dawson (1997)
30 Tim Raines (2004)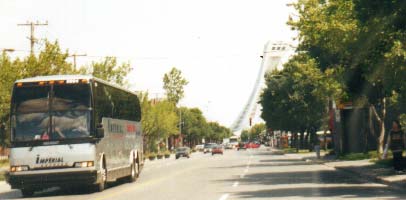 This is a weird looking stadium. It looks like a spaceship has landed.

© 2001-17 Paul Healey. Some photos © Mike Durkin and Tolivero.