Anaheim, CA
Team:

Los Angeles Angels of Anaheim

Opening Day:

April 19, 1966

Capacity:

43,000 (1966) 64,593 (1979) 45,050 (1998)

Dimensions:

Foul Lines 330 Power Alleys 365 CF 406

Surface:

bluegrass

Architect:

HOK Sport, Kansas City (renovations)

Cost:

$24 million (1966) $118 million (1997)

Owner:

City of Anaheim

Construction Company:

Del E. Webb Co. (1966) Turner Construction Co. (1997)

AKA:

Anaheim Stadium, Edison International Field
Memorable Moments:
9/16/1996: Paul Moliter gets hit number 3,000.
1967, 1989, 2010 All Star Game.
2002 World Series Champions.
September 21, 1976: Minnie Minoso becomes the oldest man to get a hit at age 53.
September 17, 1984: Reggie Jackson hits home run number 500.
August 4, 1985: Rod Carew gets hit number 3,000.
July 18, 1986: Don Sutton gets his 300th win.
September 30, 1992: George Brett gets hit number 3,000.
September 19, 1998: Alex Rodriguez joins the 40/40 club.
This park is awesome... on the playing field. There is a lovely rock formation in the outfield and it is an all in all attractive stadium. But, the seats are way too small as are the concourses. The biggest annoyance, however, was the two hour wait to get into the stadium because everyone had to pay $8 and only four people were collecting the money. Nothing like making it to the game in the fifth, when you leave two hours earlier than you need to be there.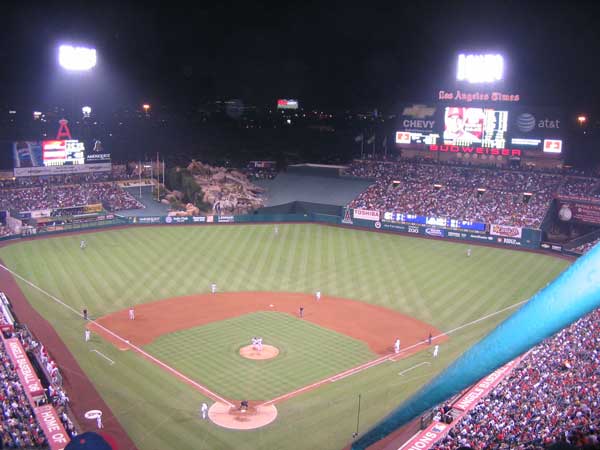 On an 120 acre plot in Orange County, Camille Alec grew orange trees and Roland Reynolds grew alfalfa, while John Knitgen, Bill Ross, and George Lenney all grew corn. On this plot, August 31, 1964, Gene Autry, Del Webb, and Anaheim Mayor Chuck Chandler broke ground on their brand new stadium, in Anaheim. The following year the team changed their name from the Los Angeles Angels to the California Angels. This stadium was completely enclosed in 1979 to make room for the NFL Los Angeles Rams. In 1996, the City of Anaheim and the Angels agreed on a 33 year lease extension in exchange for $30 million to renovate the stadium, again, into a smaller, more compact baseball only facility. The team contributed $80 million for renovations. As part of the agreement, the Angels changed their name to the Anaheim Angels for the 1997 season. In 2005, new team owner Arte Moreno, in an effort to increase marketing opportunities, changed the name to the "Los Angeles Angels of Anaheim". The phrase "Anaheim" having to be in the name. After a couple of court battles between the team and the city, the name stuck. The most recognizable feature of this ballpark was originally the huge "A" that was used as a scoreboard support. It was later moved to the parking lot. The modern most recognizable feature is the "Outfield Extravaganza" area which is designed to mimic California's rocky coast. There is a 90 foot geyser and fireworks to make this area more extravagant.
The Angels retired numbers are:
11 Jim Fregosi (1998)
26 Gene Autry (1982)
29 Rod Carew (1991)
30 Nolan Ryan (1992)
50 Jimmie Reese (1995)
© 2006-17 Paul Healey.